$3,572.00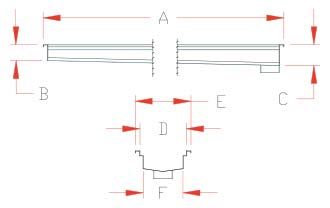 Description:
All Welded Steel Design
10' Length
12" Width
Flush with Floor Installation
Can't find what you need? Give us a call at: 815-229-0295 and we'll be happy to help you.
Product Details
Model
RSTD-E12-10-F
Outlet Size (in.)
4.00
Length (A) (ft.)
10.00
Depth (B) (in.)
4.00
Outlet Depth (C) (in.)
6.50
Width (D) (in.)
12.00
(E) (in.)
14.63
(F) (in.)
10.38
Shipping Weight (lbs)
235.00
Features:
14 ga. 304 stainless steel body completely welded with 2B industrial finish
Shallow end overall depth 4.00" V bottom design with ¼" per foot pitch standard (1/8" per foot available by request)
10 foot single piece complete drain
Standard with setting brackets located every 24"
Suitable for medium duty traffic
Corrision resistant
Also available as a 5 foot single piece complete drain
*Note: For non-standard lengths please contact Rockford Separators.